Reduce moderate to severe
painful sex due to menopause
from your inside out
INTRAROSA: the only vaginal non-estrogen treatment for moderate to severe painful sex due to menopause
What is INTRAROSA?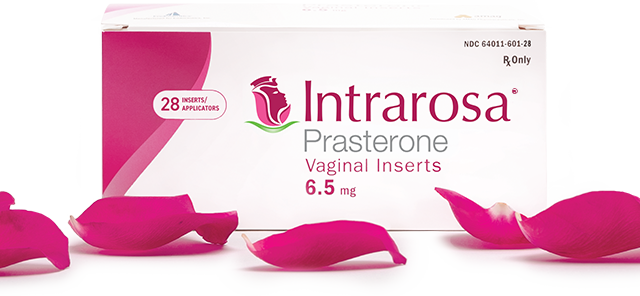 When sex is PAINFUL
after MENOPAUSE
Learn about what may
cause moderate to severe
painful sex due to
menopause.

Learn More
Find out if
INTRAROSA is
RIGHT FOR YOU
Learn about what makes INTRAROSA unique and why it may be a good choice for you.
What is INTRAROSA?
Save on INTRAROSA
Eligible commercially insured
patients will pay as little as a
$35 copay for each 28-day supply
of INTRAROSA for up to
12 months.


Get Your Card Now
Frequently asked questions
What is INTRAROSA?
INTRAROSA is the only vaginal non-estrogen treatment for moderate to severe painful sex due to menopause. INTRAROSA is made from a plant-derived form of a substance your body produces naturally called DHEA, combined with coconut and palm oils. In the same way as DHEA, your body naturally converts INTRAROSA into androgens and estrogens.†
†The mechanism of action of INTRAROSA is not fully established.
How is INTRAROSA different from lubricants?
Lubricants can temporarily relieve vaginal dryness and pain with intercourse, but INTRAROSA treats the underlying causes of painful sex due to menopause by improving the condition of the affected vaginal tissue.‡
Learn more about vaginal tissue after menopause.
‡Decreased percentage of parabasal cells, reduced vaginal pH, and increased percentage of superficial cells.